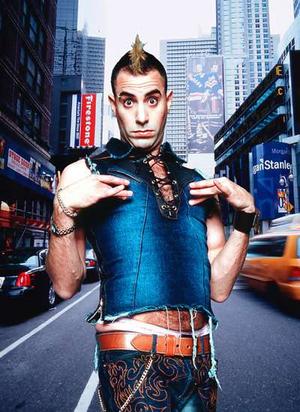 British comedian, Sacha Baron Cohen, is no stranger to controversy and lawsuits. Cohen has endured two lawsuits connected with his hit film Borat: Cultural Learnings of America for Make Benefit Glorious Nation of Kazakhstan. The lawsuits were filed by two frat boys and two etiquette instructors. Cohen prevailed in both lawsuits. Cohen is well known for his outrageous characters like Borat, a Kazakh journalist, Ali G hip hop interviewer, and Bruno, an outrageously gay Austrian fashionista.
In bingo news, a lawsuit has been filed against Cohen by a woman who claims Cohen's antics at a charity bingo game put her in a wheelchair. Richelle Olson, executive director of Desert Valley Charities, claims Cohen claims she was "offensively touched, pushed and battered." The lawsuit stems from actions by Cohen while filming his new movie, Bruno. Evidently Cohen's representatives convinced those running the charity bingo game that 'Bruno' was a celebrity and would be glad to call out the numbers during the game.
Olsen, who runs the Palmdale California bingo game, was none too pleased when Bruno showed up. Olsen describes Bruno as "extreme, outrageous, offensive caricature of a gay man dressed in sexually revealing clothing with an Austrian accent…" While calling the numbers during the bingo game Olsen says Cohen used, "vulgar and offensive language" in front of an audience largely composed of senior citizens. Olsen says that when she tried to take the microphone from Cohen a "physical struggle ensued" and that Cohen "offensively touched, pushed and battered" Olsen.
During the alleged struggle, Olsen claims that three cameramen and other members of Cohen's entourage rushed the stage "where defendants attacked [her] for a period of one to five minutes to intentionally create a dramatic emotional response while (they) recorded her humiliation and embarrassment." After the alleged assault, Olsen says she left the stage, went into another room and hit her head on a concrete slab causing brain bleeding. Olsen says she has been confined to a wheelchair since the bingo incident and wishes Cohen would just play at online bingo sites.